There's already been a hive of betting activity on tomorrow's G3 Lizrene Speed Star (715m) – the staying edition of a two-dog match race series including the Bill Collins (515m) and Racecallers (595m) versions – at Sandown Park.
Plenty of punting interest has been focused on the Match 3 clash between last week's winner (Hank The Hustler) and runner-up (Five Star) of the Listed Cup Night Stayers (715m), also at Sandown Park.
Hank The Hustler is the $2.60 TAB Fixed Odds favourite for the Lizrene Speed Star – albeit he only defeated Five Star by 0.66 lengths, who is $4.40. In their head-to-head, Hank The Hustler is $1.55 and Five Star $2.50.
Meanwhile, in Match 4, there has been support for Weblec Haze ($2.60) to upstage kennelmate and last week's G1 Sandown Cup placegetter Tyler Durden ($1.50). However, in betting on overall times, there's a significant differential – Tyler Durden ($4.40) and Weblec Haze ($15.00).
Greyhounds qualified for this year's series by times run at Sandown Park between Monday, February 1 and Thursday, May 27 inclusive. Qualification trials were also staged on Sunday, May 9; Sunday, May 16; and Sunday, May 23.
Prizemoney for each event consists of a total of $35,000. Match winners: $5,000 and Finishing order determined by the overall times: 1st – $10,000; 2nd – $3,500; 3rd – $1,500.
So, who will be the staying 'Star of Speed'?
Here are some 'fast stats', as we preview the G3 Lizrene Speed Star.
WATCH: Hank The Hustler (3) just holds off Five Star (8) in last week's Listed Cup Night Stayers at Sandown Park. Ironically, both will clash in Match 3 of the G3 Lizrene at the same venue tomorrow night.
LIZRENE SPEED STAR (MATCHES 1-4) – 715m
HERE'S TEARS (Trainer: Robert Britton, Lara)
Qualifying time: 41.799sec
Sandown 715m – 13 Starts: 4-1-4
Fastest Win Time: 41.16sec (Track Record)
Fastest first split: 6.00sec
TAB Odds: H2H – $1.50     FF – $7.00
WE THE PEOPLE (Trainer: Brooke Ennis, Lara)
Qualifying time: 41.817sec
Sandown 715m – 4 Starts: 1-2-0
Fastest Win Time: 41.82sec
Fastest first split: 6.36sec
TAB Odds: H2H – $2.60     FF – $10.00
The Watchdog says 🎤: We The People has been ultra-impressive since moving to Victoria and she should be suited to match racing. Here's Tears is the current track record holder, but he is a few lengths off his best at present and although expected to lead, he will most likely get reeled in with 100 to go.

We The People by 2 lengths in 41.80sec
SIR TRUCULENT (Trainer: Walter Harkins, SA)
Qualifying time: 41.996sec
Sandown 715m – 4 Starts: 0-3-0
Fastest Win Time: N/A
Fastest first split: 6.18sec
TAB Odds: H2H – $1.60     FF – $12.00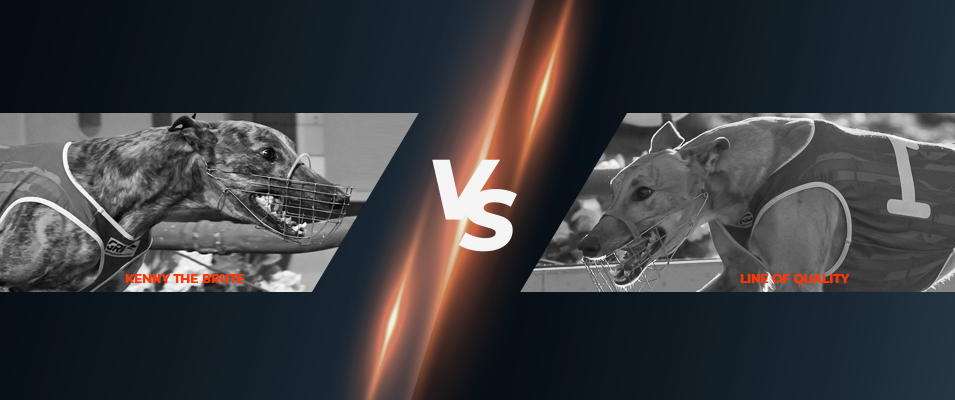 LINE OF QUALITY (Trainer: Darrell Thomas, Sawyers Gully NSW)
Qualifying time: 41.927sec
Sandown 715m – 0 Starts: 0-0-0
Fastest Win Time: N/A
Fastest first split: 6.22sec
TAB Odds: H2H – $2.35     FF – $14.00
The Watchdog says 🎤: Sir Truculent has now gained a start after the scratching of Kenny The Brute and he is an established star having won 38 races, however he is a few lengths off his best at present. The 'truck' is expected to lead, however the NSW star Line Of Quality has a dynamic turn of foot and he is expected to assume control in the middle stages and that should be enough to see him score.

Line Of Quality by 1 length in 41.95sec
HANK THE HUSTLER (Trainer: Jeffrey Britton, Anakie)
Qualifying time: 41.380sec
Sandown 715m – 7 Starts: 4-0-2
Fastest Win Time: 41.38sec
Fastest first split: 6.06sec
TAB Odds: H2H – $1.55     FF – $2.60
FIVE STAR (Trainer: Paul Abela, Parwan)
Qualifying time: 41.637sec
Sandown 715m – 2 Starts: 0-1-0
Fastest Win Time: N/A
Fastest first split: 6.15sec
TAB Odds: H2H – $2.50     FF – $4.40
The Watchdog says 🎤: These two had a cracking battle here last week and it should be another thrilling affair. Hank has been showing a lot more early speed of late and he is expected to lead again. He has proven that he is hard to get past when in the clear. Five Star will continue to improve as a stayer, however he may be giving away a bit of a start mid-race and is unlikely to bridge the gap.

Hank The Hustler by 2 lengths in 41.60sec
TYLER DURDEN (Trainer: Jeffrey Britton, Anakie)
Qualifying time: 41.743sec
Sandown 715m – 2 Starts: 1-0-1
Fastest Win Time: 41.74sec
Fastest first split: 6.06sec
TAB Odds: H2H – $1.50     FF – $4.40
WEBLEC HAZE (Trainer: Jeffrey Britton, Anakie)
Qualifying time: 41.695sec
Sandown 715m – 8 Starts: 0-1-1
Fastest Win Time: N/A
Fastest first split: 6.17sec
TAB Odds: H2H – $2.60     FF – $15.00
The Watchdog says 🎤: Tyler Durdenhas been enormous since making the step up in distance and he is the best bet of the four match ups. He should pounce on the lead and, although Weblec Haze has brilliant mid race pace, he is unlikely to get past Tyler and will get tired in the closing stages.

Tyler Durden by 4 lengths in 41.70sec
The Watchdog's final word 🎤: Hank The Hustler comes into this in red hot form and his past two wins here have been in scintillating times. He should gain a clear passage throughout and that will allow him to carve out the quickest time. Tyler Durden has gone sub 6 seconds to the first marker in his two runs here, so he should carve out the quickest time to the 1st and 2nd marker, however he may get a little tired in the closing stages. Five Star can fill the trifecta. He should be on Hank's heels for most of the journey and although likely to be beaten, he will not be too far away.

Tips: 5 / 7 / 6 / 1
The content on this page was accurate at the time of publishing. If you notice any inaccurate content on this page or anywhere on the website, please report it here