Star Recall ($2.10) has added her second Group 1 trophy to her mantelpiece in the 2016 $145,000 Superstayers (725m) at The Meadows on Saturday's Australian Cup night.
.
Jumping from box 5, Star Recall lead from start to finish in a time of 42.46sec for trainer Jeff Britton.
.
"I'm pretty emotional about this win. The owner Kevin Dover and I used to play cricket and footy together and then we didn't see each other for about 20 years."
.
"Being involved with him now with Star Recall is really special, and we are about to go on a holiday together to Hong Kong, so it will be a big celebration," Britton said.
.
"I've never trained a greyhound with the talent and versatility that she has. She can sprint and she has nearly broken track records over the sprint and middle-distances, and now she's a Group 1 winning stayer. She's very special."
Owner Kevin Dover needed a few quick drinks before Star Recall's eighth group venture to calm him nerves.
"We always get a bit nervous before she races but the Superstayers was a step up. We sat around the TV in silence before she jumped," Kevin Dover explained.
"I was very happy to see James handler her because she went so well in the heats and she looked very relaxed in his care; he did a fantastic job."
"It's an unbelievable feeling to own a dog like Star Recall, she has achieved and overcome so much in her career – I am very proud of her."
The fast finishing Esparza ran second with Lioness Lulu third.
.
WATCH: Star Recall takes out the 2016 Group 1 $145,000 Superstayers at The Meadows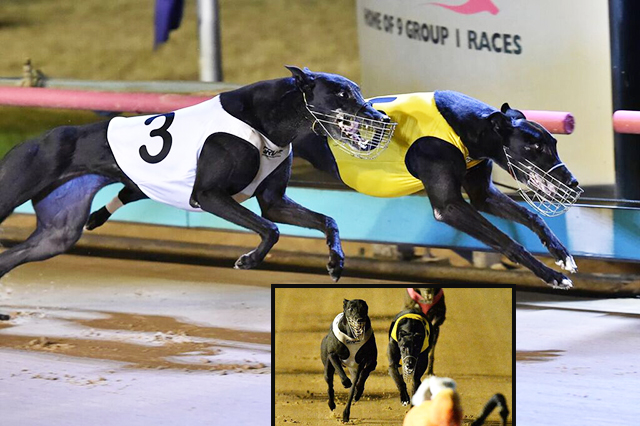 Star Recall (5) just hangs on over the fast finishing Esparza, while (inset) the latter hits the front just after the finish line.
The content on this page was accurate at the time of publishing. If you notice any inaccurate content on this page or anywhere on the website, please report it here